Welcome Back
As a past customer of North Spirit Lake Lodge we invite you back for another memorable fishing trip with us.
Fishing Report
Fishing was excellent this summer at North Spirit Lake Lodge. There were numerous Pike over 40 inches along with many Walleyes over 30 inches boated this season. Even with early ice out, fishing Lake Trout proved successful for those who gave it a try.
Rate Information
We have updated the rate sheet information. Call for availability. Don't let your favorite spot get away!
Check Your Mailbox
Watch for your Ontario Outdoor Card renewal. Renew online at www.ontario.ca/fishing and purchase the required license.
Requests for deposit letters were mailed to customers who reserved space for the following season. If you did not receive one, please call or email so we can confirm your dates.
Upgrades
We have outfitted all of our New Mercury outboards with Rock Hopper Motor Guards. With this addition we did not have any propeller damage. Those Rock Hoppers are amazing! New seats in our guide boats will give you a bit more comfort this year. Some of the cabins got a facelift with the addition of porches, which will make the lake view more enjoyable. In addition we have added new beds with hopes of a good nights rest, and visions of walleyes dancing in your heads.
2013 July & August Housekeeping Special $995.00 Per Person
Includes round trip air from Red Lake Ont.
All food and accommodations
8 people minimum
7 full days fishing: Saturday - Saturday
4 boats & motors
Unlimited gas
2013 July & August American Plan Special $1,595.00 Per Person
Includes round trip air from Red Lake Ont.
All meals, accommodations and maid service
6 people minimum
6 full days fishing guided (1/2 day fishing on your own on arrival day)
Saturday - Saturday
Guide (2 people per boat)
18 Ft. boat with 40 HP Mercury 4 stroke motor
Unlimited gas
Owned and operated by the Nelson Family since 1974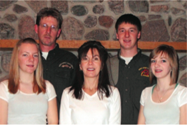 Trophy Fishing